Preceptor Information and Application
f you are interested in becoming a Preceptor for the Feik School of Pharmacy, University of the Incarnate Word, please
Complete the Experiential Education Preceptor Application below
Submit current resume/CV to Jeff Copeland, Assistant Dean, Experiential Programs
Thank you for your contribution as a preceptor and commitment to the future of pharmacy!
Preceptor Awards 2017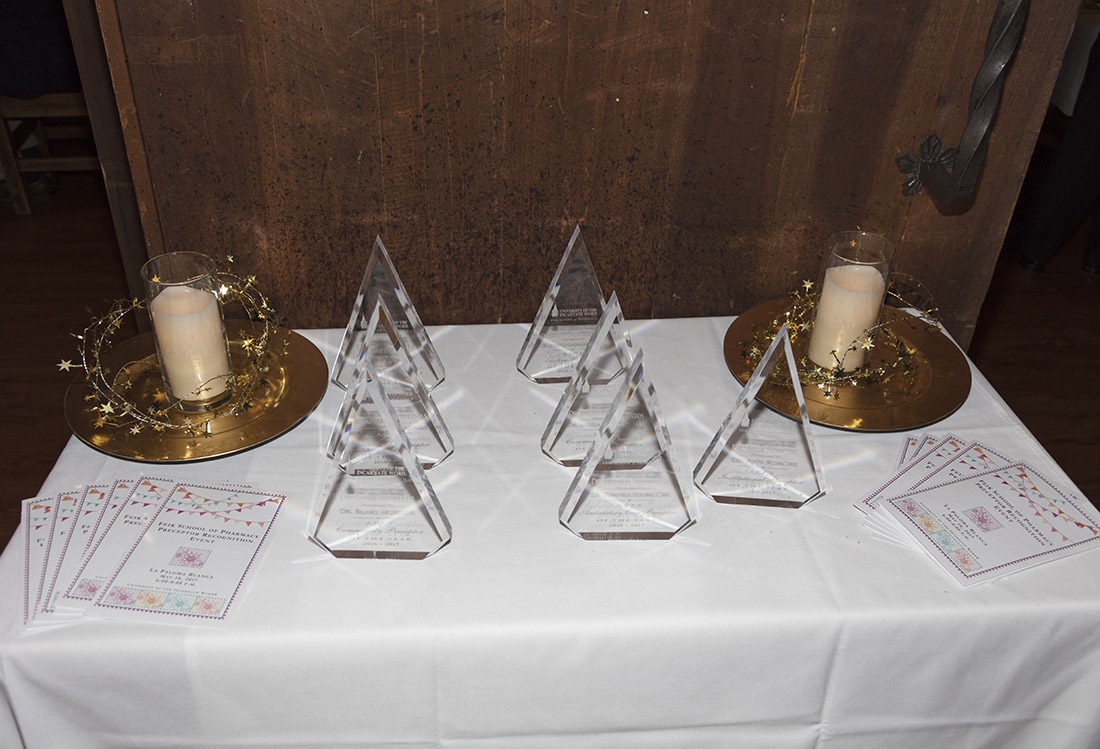 The Biennial Preceptor Recognition Event was held on May 18, 2017 at La Paloma Blanca. Guests were invited to partake of the delicious Mexican fare while they listened to the festive overtures of a local mariachi band. At the event, seven preceptors were recognized for their exceptional mentorship of UIW students on rotation. The category winners were selected by UIW students from the classes of 2015 and 2016. We would like to thank each of the winners and all of our excellent preceptors in the community for giving our students the gift of their time, the most precious and influential resource they could provide.
Preceptor awardees for 2017
| | | |
| --- | --- | --- |
| IPPE Institutional | Dr. Ann Roache | |
| IPPE Community | Dr. Angela De Los Santos |   |
| APPE Acute Care | Dr, Aspen Wall | |
| APPE Ambulatory Care | Dr. Tunisha Che | |
| APPE Hospital | Mr. Ricardo Salinas | |
| APPE Community | Dr. Blake Mueller | |
| APPE Elective | Dr. Ernesto Garza-Gongora II | |
| Faculty Preceptor | Dr. Rebecca Brady | |
Preceptor Conference and Recognition
2016 Preceptor Conference Presentations
Enhancement of an Experiential Education Rotation Utilizing the Methods of Excellent Preceptors
Implementing MTM with Pharmacy Students
Precepting Across A Spectrum of Student Abilities
Preceptor Recognition & Awards
As a way to celebrate and recognize the many preceptors that contribute to the success of the program, a bi-annual program of recognition and awards has been established.
|   | 2015 | 2017 |
| --- | --- | --- |
| IPPE Institutional | Dr. Julia McManimie | Dr. Ann Roache |
| IPPE Community | Dr. Hahn Bui | Dr. Angela De Los Santos |
| Acute Care | Dr. Kelli Griffith | Dr. Aspen Wall |
| Ambulatory Care | Mr. Steven Guerrero | Dr. Tunisha Che |
| Hospital | Dr. Jeffrey Mandel | Mr. Ricardo Salinas |
| Community | Mr. Jason Wong | Dr. Blake Mueller |
| Elective | Mrs. Anita Martinez | Dr. Ernesto Garza-Gongora II |
| Faculty Preceptor | Dr. Kathleen Lusk | Dr. Rebecca Brady |