Pharmacy Technician Program
Discover a Rewarding Career as a Pharmacy Technician
The Pharmacy Technician Program at the UIW Feik School of Pharmacy (FSOP) provides the hands-on training, innovative education and a learner-centered community dedicated to advancing the quality of pharmacy practice in a variety of practice settings. This program is designed to prepare students with the knowledge and passion to successfully pass the National Pharmacy Technician Certification (NPTC) exam and directly enter the exciting field of pharmacy.
The FSOP Pharmacy Technician Program is eligible to be certified by the ASHP/ACPE, a desirable attribute for job placement.
Classes start in August 2023. Applications are now open! For additional information, email pharmtechfsop@uiwtx.edu.
Pharmacy Technician Program
The 45-week (entry-level) or 65-week complete program includes a well-blended mix of classroom, audio-visual presentation and hands-on, on-site experience at local hospitals and pharmacies. Instruction is provided by experienced, licensed pharmacists and technicians who are current practitioners in the field of pharmacy.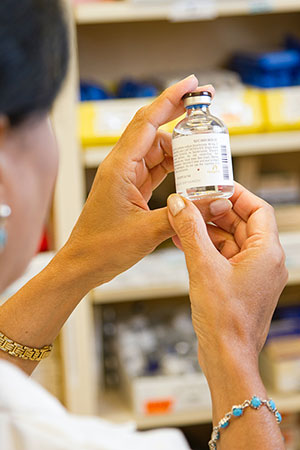 Student Benefits
Earn a UIW certificate of completion and 27 - 41 college credit hours.
Classes are conveniently held in the evening on weekdays at the Feik School of Pharmacy.
Earn a sterile compounding certification to enhance employment opportunities.
Receive college credits, which can be transferred to an associates degree program offered by the UIW School of Professional Studies.
Receive opportunities for on-site training through UIW's extensive network of healthcare provider relationships.
Course Subjects Include:
Anatomy
Physiology
Therapeutics
Pharmaceutical Calculations
Pharmacy Technician Law
Pharmacy Technician Simulation
Two Program Levels
Certified Entry Level Pharmacy Technician: A 45-week program that consists of nine courses in Pharmacy and 30 college credit hours.
Certified Entry and Advanced Level Pharmacy Technician: A 65-week program that adds three courses and 14 college credit hours to the Entry Level Program once the Entry Level Program is complete.
Location and Times
Classes are held in the evening on Tuesday, Wednesday and Thursday from 6 - 9 p.m. at the UIW Feik School of Pharmacy located at 703 E. Hildebrand, San Antonio, TX 78212.
Tuition
Entry-Level: $13,325
Entry and Advanced Level: $19,975
Federal student financial aid is available for those who qualify. The Pharmacy Technician Program is eligible for VA education benefits.
To guarantee a seat in class, both Entry-Level and Advanced-Level Course applicants are required to pay a matriculation fee of $100.00. This fee is non-refundable.
*Students must complete the entry-level courses before being accepted into the advanced level
Curriculum
The Pharmacy Technician Program curriculum includes a global perspective with an emphasis on social justice and co-curricular activities.
The Entry Level Program consists of the following eight courses (27 credit hours):
Anatomy, Physiology and Therapeutics – 2 credit hours
Pharmaceutical Calculations – 2 credit hours
Pharmaceutical and Sterile Compounding – 1 credit hour
Pharmacy Technician Law – 2 credit hours
Pharmacy Technician Roles and Communications – 2 credit hours
Dispensing – 2 credit hours
Pharmacy Technician Simulation – 4 credit hours
Early and Intermediate Technician Experience – 12 credit hours
The Advanced Level Program adds the following three courses (14 credit hours) to the Entry Level Program once the Entry Level Program is complete:
Advanced Compounding – 3 credit hours
Advanced Management – 5 credit hours
Advanced Technician Experience – 6 credit hours
Career Outlook
Diverse career opportunities exist for full-time and part-time work as a pharmacy technician, especially for technicians with formal training or previous experience. The 2021 median hourly pay was $17.66 and the median yearly salary was $36,740*.
Source: U.S. Bureau of Labor Statistics
National Certification Exam
UIW is a Pharmacy Technician Certification Board (PTCB) recognized education/training program. This program prepares students to sit for a national certification exam (pdf). The Texas State Board of Pharmacy (TSBP) requires passing a national certification exam and registration with the TSBP in order to work as a pharmacy technician. Other states may have additional requirements beyond the national certification exam. Check with your state Board of Pharmacy for details.
---
Watch the video below and see how the Pharmacy Technician Program has helped them in their career.
Complete the Immunization Record
All pharmacy tech students are required to meet recommended standards for immunizations for health professions personnel. Immunizations are required upon admission to the program and updated as required. Accepted applicants will be required to submit documentation of the following completed immunizations and/or titers to Sentry MD upon their confirmation of acceptance to the Pharmacy Technician program. Some may require six months or more to complete, so applicants should ensure all requirements are met prior to application. Professional documentation is required for medical contraindications.
Accepted students will receive instructions and deadlines for submission of immunizations from the Director of Pharmacy Technician program in the acceptance letter. Accepted students who do not submit required documentation by the deadline will forfeit their admission into the program. In preparation, applicants may download the Immunization Validation Form (pdf) for completion and signature by their healthcare professional prior to applying to the Pharmacy Technician program.
Hepatitis B Immunizations (may require more than 6-months to complete)

Hepatitis B vaccine series, or
Hepatitis A/B vaccine series, or
Hepatitis A/B vaccine series

Varicella vaccine (2 doses) or laboratory evidence of immunity (titer)

Note: History of having had the chickenpox disease will not be accepted as evidence of immunity.

MMR vaccine (2 doses) or laboratory evidence of immunity.
Seasonal Influenza (1 dose) annual fall/winter vaccine. Required annually in the fall.
Tdap (1 dose)

Note: Tdap (Tetanus-Diphtheria-Pertussis) is the adult/older children vaccine. It is not to be confused with Td (Tetanus-Diphtheria vaccine) or DTaP (Diphtheria-Tetanus-Pertussis vaccine, intended for children). A titer is not accepted.

TB screen (PPD) within the past 6 months is required. Alternately, a medical plan for follow-up if PPD contraindicated.
COVID Vaccine

May be required by certain clinical agencies for practicum.
What do I do after I submit my application?
Send us your application documents (i.e., transcripts) by emailing PDF format documents to admissiondocs@uiwtx.edu or by sending physical copies to the following address:
University of the Incarnate Word
Document Receiving
4301 Broadway, CPO 304
San Antonio, TX 78209
You can also ask your institution(s) registrar's office to send your transcripts to us on your behalf.
Do I need to submit transcripts from both high school and college/university?
Yes, students must submit transcripts from all colleges/universities and high school previously attended.
What immunizations do I need to have?
Hepatitis (complete series), MMR (two doses), Tdap, Varicella (two doses), Meningitis (for students younger than 22), Influenza (site requirement), and COVID-19 (site requirement).
What prerequisites do I need?
Background Check
Urinalysis
Transcripts
$100 matriculation fee
Interview with the Pharmacy Technician Program Director
When are classes held?
All classes are held Tuesday, Wednesday and Thursday evenings from 6 to 9 p.m.
How long is the program?
Entry-level: One year
Entry-level + Advanced-level: 15 months